Ulf Linde
Art Critic
Nina Wedberg Thulin's paintings are wholly genuine; it's pointless to try to label them as a particular type. Realism? Abstract? Symbolic? They are all of these, or none of these. She changes style over and over again, but not out of confusion. Each one of her ideas, each vision, requires its own expression.  And its own colour. (The colour is important; it can seem to be restrained, but it jingles without sounding off key.)
What's visible in her paintings is not randomly selected.  The subject matter is taken from her life; significant memories that she has lifted out of the dust of time. What we see is astonishing, unexpected, and fresh on deep levels. There is no need to compare.  They can stand on their own with out extracting energy from others' work.
At a time when most painting rests on ironic references to others' work, she is a painter who takes her art seriously.  And she does this out of necessity in a time filled with that which is unnecessary. That is enough.
Ulf Linde
2005
From the Swedish magazine Kulturen
about Nina Wedberg Thulin's Exhibition,
"Motherlands"
Epic gestures and feelings actualized with restraint. Clean, earthy, powerful lines and forms balanced with expressive paintings. Three words for Nina Wedberg Thulin's extensive exhibition "Motherlands" are symbolism, simplicity and humanity. She hasn't taken any shortcuts. Even her blog is made three dimensional in an installation with a full sized human figure pulling a veil filled with embroidered words and pictures. The hands are disarmingly outstretched as if to reveal the ego when it is most naked. Vulnerable, but strong at the same time – two aspects of human feelings. Behind the veil stands a temple at the same height as the human figure, as if to say that we are all buildings with windows to look out of and crevices to hide things in, with different floors and rooms, like the growth rings of a tree.
Wedberg Thulin has chosen to work with form, the sculptural form. Even in her paintings, the form is clear with even greater clarity than in her sculptures, which are more streamlined. The paintings areoften photographic and colourful. The forms in the sculptures are, on the other hand, more down-to-earth. Thename "Motherlands" could, similar to the word motherhood, just as well refer to the inner strength of all human beings, or to coming home; motherliness can be translated to humaness and safety.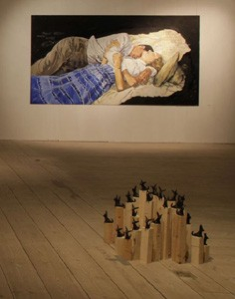 Certain forms are repeated, for example the figure of a skirted half body is a key form. These sculptures, which are displayed three and three with different qualities, have a playful upper part shaped like a bowl. In one bowl, there is a stairway moving downward, in another a video projection. Videos are used in "Motherlands" in various ways, with one film projected on a sculpture shaped like a woman with a kind of building instead of an upper body, as if to reconnect human nature seen as an architectural object. At the same time, it seems as though we are looking through a keyhole, seeing the fate of one human being. The film shows a woman, most likely the artist herself, together with an Asian child. The work "The House" is yet another symbolic installation where four people in miniature, molded as stick figures in a house with different rooms, express different moods, perhaps stages in a human being's life, or individuals who, together, make up a family. Once again, the shape of a house.
In the painting "Day and Night" a middle-aged couple is lying wrapped around each other in a bed, clothes on, with peaceful faces. Buildings and bodies dominate the exhibition which stretches out over the whole upper floor and takes up half of the first floor of one of the buildings within Edsvik's art area. Besides working with painting and sculpture, Nina Wedberg Thulin has also worked with theatre and film. She made her debut with "Eyes shut – A Dialogue with My Father" in Japan 2005.
Pernilla Andersson
2011-08-31